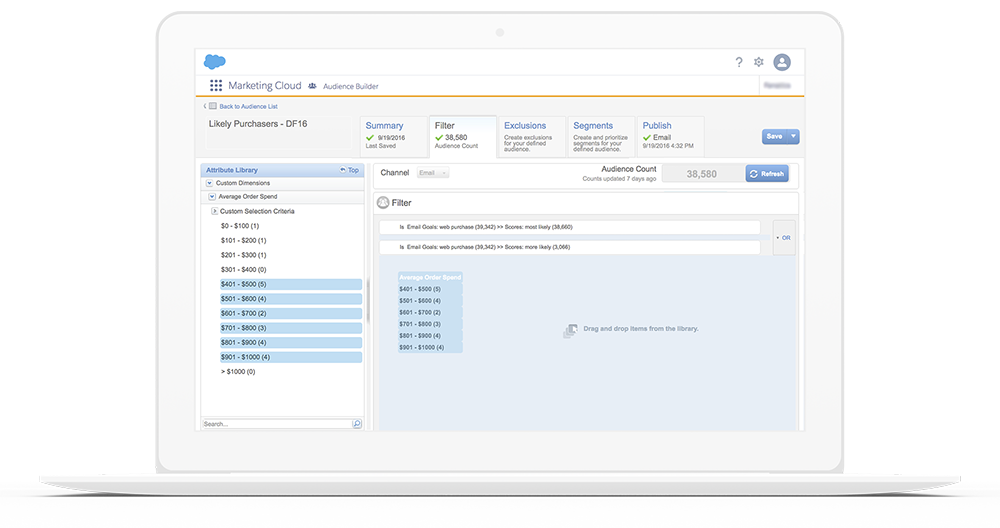 Use drag-and-drop segmentation tools to hone your subscriber list, so your messaging is always relevant. Filter millions of profiles in seconds, and get instant counts for sending.
Automatically import, segment, and filter data from any source — so you can focus on creating great campaigns.
Engage your most active subscribers more often, and improve deliverability by sending messages to inactive subscribers less often.
Push segments to your DMP for better targeting profiles. Then, share those segments in Ad Studio, targeting them across other channels.
Trailblazers share tips to bring customers and brands together in an email series full of marketing heroics.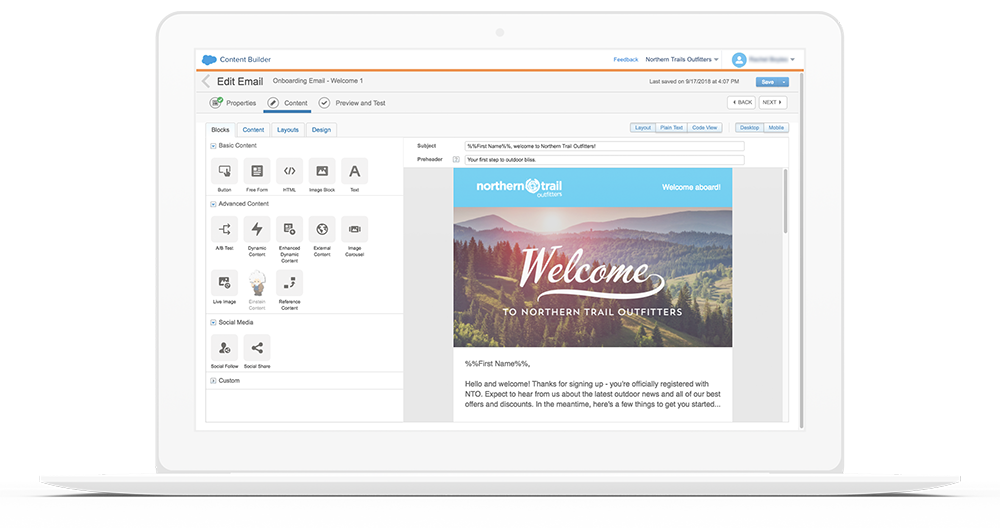 Quickly and effortlessly optimize for mobile so your emails always appear exactly as you intended — wherever they're opened.
Populate email designs quickly with best-in-class templates and get creative with custom content blocks.
Take advantage of drag-and-drop functions, personalized scripting language, and interactive content like carousels and weather reports to surprise and delight in real time.
Strengthen your customer relationships with email conversations that drive every stage of the customer lifecycle.

Tailor content using AI in each email based on individual user behavior, essentially creating a segment of one.
Get the most out of your rich first-party data using dynamic content to scale personalization across your campaigns.
Deliver more dimensional, interactive, and fun experiences in your subscribers' inbox.
Discover why users are more satisfied using Salesforce email — and how to make the switch in four simple steps.

Preview and test every message before you send it to ensure quality in every email — and establish guardrails to prevent accidental delivery of test messages.
Increase your team's efficiency and make your job easier. Set up a delivery schedule so customers experience your brand the way you want — without a heavy manual workload.
Unmatched flexibility and scalability empower you to maintain 1-to-1 relationships — even with enterprise audiences of millions.
Make rapid iterations to your journey and run tests quickly and confidently. Learn what's working, what isn't, and how to perfect each campaign.
Ask about Salesforce products, pricing, implementation, or anything else. Our knowledgeable reps are standing by, ready to help. Or check out our "Pricing and Packaging Guide" to learn more.